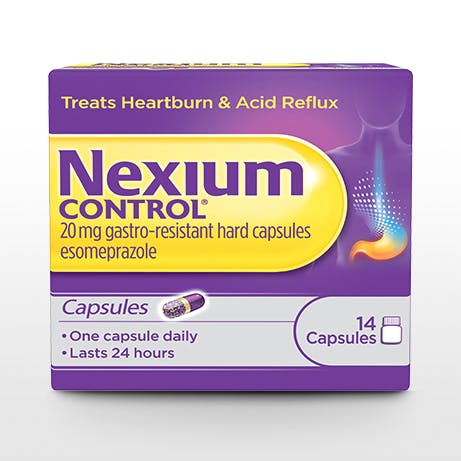 Nexium Control Mini-Capsules
Innovative Mini-Capsules: 53% smaller than the tablet (based on volume of the capsule vs the tablet), in a portable bottle.

14 X 20mg capsules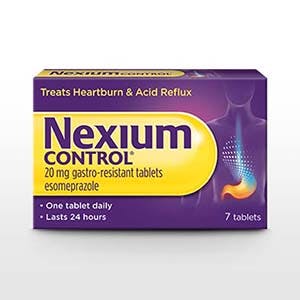 Nexium Control 7 tablets
Just one pill a day for 24 hour protection and zero heartburn. If you're trying Nexium Control for the first time you can start here.

7 X 20mg tablets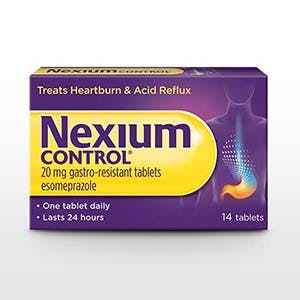 Nexium Control 14 tablets
The same protection in a larger pack size. Nexium Control can be taken for up to 14 days.

14 X 20mg tablets

Here's a summary of the
Nexium Control product leaflet

Nexium Control is a non-prescription medication for the short-term treatment of reflux symptoms (e.g. heartburn and acid regurgitation) in adults.


Always take this medicine exactly as described in the Patient Information Leaflet or as your doctor or pharmacist have told you. A link to the Patient Information Leaflet is at the bottom of this page. Check with your doctor or pharmacist if you are not sure.


For a full list of warnings and precautions associated with taking Nexium Control, please refer to the Patient Information Leaflet. This will provide a breakdown of possible side effects, the possible interactions with other medicines, advice regarding pregnancy and breast feeding, advice on driving and use of machinery, as well as warning symptoms which may occur on rare occasions. In any of these cases, you should read the Patient Information Leaflet for full details and consult your doctor or pharmacist for advice or further information. A link to the Patient Information Leaflet is at the bottom of this page.